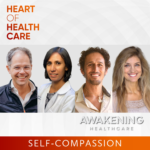 Episode 3 invites Doctors Jan Bonhoeffer and Dan Dinenberg and co-hosts Stephanie MoDavis and Dr Ruby Shah to discuss healthcare versus disease-care. Stephanie takes the patient's perspective while Ruby will be assuming the standpoint of a physician. Jan will explore the conversation from the perspective of the system, while Dan's viewpoint will be that of a holistic healer and guide.
Topics on the table for discussion include whether there's a way to practice true healthcare, exploring what's in the way of that model and where we are blocking it.
The team also looks at how we interact with each other as healthcare professionals and patients, and whether there is a need for more heart in medical practices. For example, how do we support each other and where do we actually created roadblocks to healing for each other? How can we listen deeply to our patients?
They talk about when compassion and the permission for compassion become the basis for caring, and how as physicians we are stronger when we bring kindness, tenderness, presence and vulnerability to work.
Whew! We are diving deeper in every episode! Where will we go next?
REACH OUT TO AWAKENING HEALTH:  Website www.awakeninghealthcare.com | Instagram @AwakeningHealthcare | YouTube Awakening Healthcare
REACH OUT TO STEPHANIE MODAVIS: Website www.stephaniemodavis.com | Facebook @StephanieDanielleMoDavis | Instagram @MysticMessenger1111 |
SPONSORED BY: Dare To Care: How to Survive & Thrive in Today's Medical World. Get your copy from Amazon here today!
CONNECT WITH US: Website www.heartbasedmedicine.org | Facebook @HeartBasedMed | Instagram @HeartBasedMedicine | Twitter @HeartBasedMed | LinkedIn @Heart Based Medicine
LEARN MORE ABOUT: Dr Dan Dinenberg | Website www.drdandinenberg.com | LinkedIn @DanielDinenbergMD | Instagram @drdandinenberg