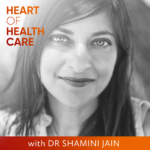 Presenting a new vision of healthcare that represents a marriage of cutting-edge science with spiritual wisdom, Dr Shamani Jain is our special guest today joining our hosts – Prof Dr Jan Bonhoeffer and Dr Daniel Dinenberg.
Among her list of impressive roles, she lists Assistant Professor in the Department of Psychiatry at UC San Diego, where she is also Chair of the Center for Integrative Medicine's Research Committee, as well as the Founding Director of the Consciousness and Healing Initiative. She is also the author of Healing Ourselves, and today's conversation digs a little deeper into this fascinating subject.
SPONSORED BY: Dare To Care: How to Survive & Thrive in Today's Medical World. Get your copy from Amazon here today!
CONNECT WITH US: Website www.heartbasedmedicine.org | Facebook @HeartBasedMed | Instagram @HeartBasedMedicine | Twitter @HeartBasedMed | LinkedIn @Heart Based Medicine