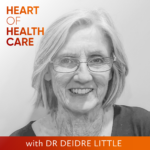 Today's conversation sees physicians from Switzerland, Hawaii and Australia discussing the notion of non-for-profit care. Led by our special guest Dr Deidre Little, where she shares how she has created a not-for-profit antenatal clinic. Providing vital healthcare in rural Australia that supports pregnant mothers from start to finish with a paid specialist, allied health referrals and multifaceted medical, practical, social and emotional support throughout pregnancy. Her clinic also welcomes illegal immigrants and migrant workers who have no other health entitlements.
Deirdre shares what positive impact this approach has had on the morale, well being and attitude of her healthcare colleagues, how the clinic has impacted positively on the community and how help has come from often surprising places.
SPONSORED BY: Dare To Care: How to Survive & Thrive in Today's Medical World. Get your copy from Amazon here today!
CONNECT WITH US: Website www.heartbasedmedicine.org | Facebook @HeartBasedMed | Instagram @HeartBasedMedicine | Twitter @HeartBasedMed | LinkedIn @Heart Based Medicine
LEARN MORE ABOUT: Dr Dan Dinenberg | Website www.drdandinenberg.com | LinkedIn @DanielDinenbergMD | Instagram @drdandinenberg