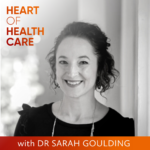 In this conversation, Prof Dr Jan Bonhoeffer & Dr Dan Dinenberg, welcome special guest Dr Sarah Goulding to ask how physicians reclaim their joy and passion for their work.
Together, they discuss how important positive mental wellbeing is for medical practitioners, their patients, and their organisations in order to thrive, not just survive.
Sarah shares how her journey went from being a thriving and happy doctor to burning out and the realization that she – and all healthcare professionals – need to put their well-being first to remain resilient, competent and able to flourish.
REACH OUT TO OUR GUEST: Website www.drsarahgoulding.com | LinkedIn @DrSarahGoulding | Twitter @drsarahgoulding | Instagram @drsarahgoulding
SPONSORED BY: Dare To Care: How to Survive & Thrive in Today's Medical World. Get your copy from Amazon here today!
CONNECT WITH US: Website www.heartbasedmedicine.org | Facebook @HeartBasedMed | Instagram @HeartBasedMedicine | Twitter @HeartBasedMed | LinkedIn @Heart Based Medicine
LEARN MORE ABOUT: Dr Dan Dinenberg | Website www.drdandinenberg.com | LinkedIn @DanielDinenbergMD | Instagram @drdandinenberg