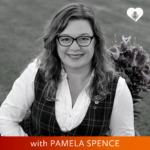 Today's special episode features Medical Herbalist and Educator Pamela Spence who reminds us of the lost art of convalescence. In the aftermath of COVID many of us are facing depleted energy levels and even burnout, and might be pushing ourselves beyond our limits to return to some kind of 'normal.'
In her heart-warming conversation with Prof Dr Jan Bonhoeffer, Pamela looks at what the virus can teach us in terms of tuning into our own bodies, managing stress levels and giving ourselves permission to be exhausted. As we emerge from the pandemic, it's more important than ever to rebuild our support networks so that we can live sustainable, balanced and happier lives.
REACH OUT TO OUR GUEST: Website www.pamelaspence.co.uk | LinkedIn @medicalherbalist| Facebook @PamelaSpenceHerbalist | Instagram @pamelaspenceherbalist
SPONSORED BY: Dare To Care: How to Survive & Thrive in Today's Medical World. Get your copy from Amazon here today!
CONNECT WITH US: Website www.heartbasedmedicine.org | Facebook @HeartBasedMed | Instagram @HeartBasedMedicine | Twitter @HeartBasedMed | LinkedIn @Heart Based Medicine
LEARN MORE ABOUT: Dr Dan Dinenberg | Website www.drdandinenberg.com | LinkedIn @DanielDinenbergMD | Instagram @drdandinenberg